Feel free to send us your thoughts, comments, suggestions etc., to: nj-cnal@googlegroups.com
From Walt Godek
I hiked the Incline plane area and the surrounding trails recently and I thought the current conditions may be of interest.
https://picasaweb.google.com/godekwg/2011 05 08 Other Side Musky Inc plane 1#
I was at the Canal Day today at Waterloo Village and I got bitten by "The Bug"! A membership application will be in the mail shortly. I learned that the cable laying around the upper plane area is the original 2" cable and I can't wait for late Fall to explore some more.
From Jen Braun (Member CSNJ)
I enjoyed the web site immensely, especially visitor email. What a great feature!
From Frank Crommelin of Hawthorne, NJ
Hello. I thought you might like to see this, It's a digital combination of an old post card and a current digital image it was taken from Garret mountain, Paterson . Just the advancement in transportation is amazing. I used the Paterson Court House as my alignment point. I have used 100 years as a working title I don't know the exact period. I took the digital about four years ago.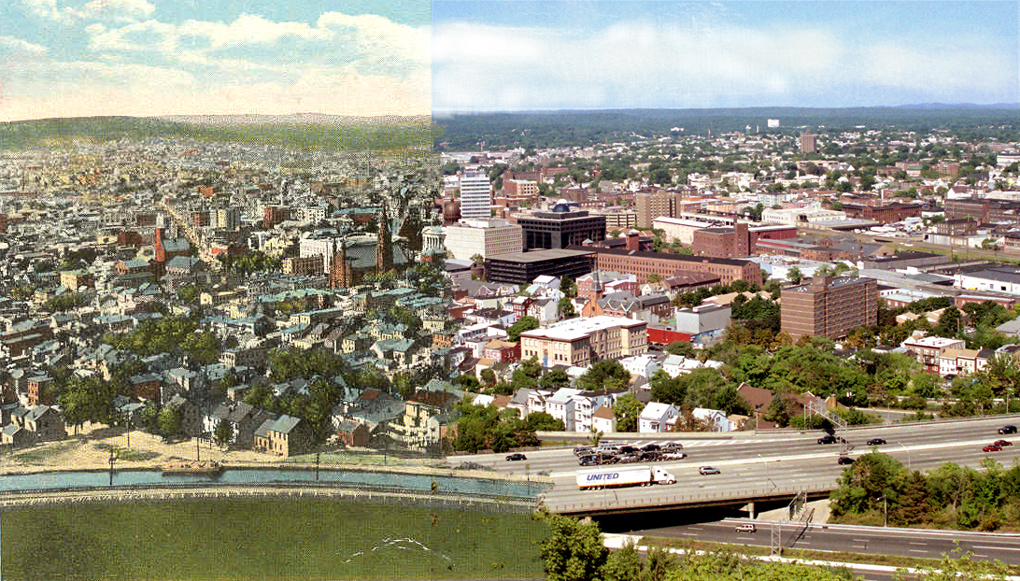 From William A. Guthrie
Hi,
My name is Bill Guthrie and I lived in West Paterson, NJ, from 1952 until I joined the Air Force in 1968. Our house, at 65 Marcellus Avenue, had a backyard that bordered on the Morris Canal. This was my grandmotherís house and she told me she swam in the Morris Canal in the early 1900s. When I lived there, we used to climb up the hill and the mule trail was on our side of the canal. The canal was dry and we could easily cross over and make our way to Butcherís Pond east of my house.
The area is now covered by the Squirrelwood Road entrance onto Route 80 west bound.
From Janet Tomaszewski
Hi Folks,
I spent some time at Stephen's State Park this morning. It is still as beautiful now as it was back in the 1950's when I was a kid. I'm writing this, though, in response to a narrative I read on this site yesterday, from George Winter of Alabama.
I have many great childhood memories of Saxton Falls, but my mother has even greater ones. Her family rented the first bungalow next to the little store at the Falls. Their name was Dolan. My mother, Helen and her brother Peter, spent their summers up there from the 1930's through the 1940's. Peter had a dog, a German Shepherd. My mother worked at the little store by the Falls. She remembers Bette Cooper (Miss America) swimming at the pool at Saxton Falls. My great aunt, Regina Sleigh, owned a cottage down the river from the falls. She called her place 'Riverside Rest'. I have letters that my father wrote during WWII describing how he longed to be fishing in the river instead of fighting the war (he was in Luxemburg and Germany). My father's family rented a summer cottage across the tracks and up the hill on the other side of the river. They docked their rowboat just above the falls.
When I was a kid, I remember hearing about a woman who lived right below the falls and we called her "the lady with the beehive on her head". That house is gone now, as are all the little bungalows above the falls.
The railroad tracks that you speak of are memorable in our family as my great grandfather was killed by a train on those very same tracks.
I took my mom there last June. She's 82 now. We had a wonderful time. It was kind of sad, too. We were glad that the canal society is taking care of the tow path. Its a great place to walk. How weird, I walk my German Shepherd there as my uncle did so many years ago.
My parents met at Saxton Falls, knew each other as kids. They became reacquainted after the war and were married. I believe they spent part of their honeymoon at Saxton Falls.
Would love to hear more memories of summers at the falls. We called it 'going up the country' as opposed to "going down the shore".
From Shauna Fairbanks
Hi,

Iím the webmaster of our family website, Fairbanks in the West. My husbandís g-g-grandfather worked on the Morris Canal as a stonemason when it was being built. My husbandís grandfather later painted a section of the canal and it was through your website that I discovered his painting was of the aqueduct at Mountain View. Would it be possible to be emailed a copy of the old photograph of the aqueduct to put on our website alongside the painting? I love all the history of the canal, by the way, and your website is quite amazing! I had no idea of the scope of the canal, only that my husbandís g-g-grandfather worked on it.

Thank you for your consideration.

Shauna Fairbanks

From John Payne of Oakland, NJ

Among the items I've been handed down from my great-grandfather, John Shields Payne, were boxes of 100-year-old glass plate negatives of family and locales around northeastern NJ. One of them was marked "Morris Canal."

Someone told be about your webpage, so I thought you might enjoy a scan of the photo. Click Here to see Photo

I have no clues as to the exact year or location the picture was taken, or who the gentleman in the shot is. My great-grandfather lived in Wortendyke (Midland Park) and worked in Paterson at the turn of the 19th century.

The canal appears to go under a railroad bridge in the background, if that's a clue.

If you folks can determine the location or time period, I'd be interested in knowing. I'm putting together a website (Click here for his Website) featuring these old, fascinating photos.

follow-up: (Location of photo was later identified by CSNJ to be at Broad Street near Belgrade Ave. at the border-line of Paterson-Clifton)

From Harrell W. Montonya Jr. of Ulster, PA

My grandfather used to tend the #3 plane on the Morris Canal when he was 9 years old when his grandfather Samuel Baxter had to go out of town on business.

My grandfather's name was Jerry Montonya and he and my grandmother, maiden name, (Eva Burdge) are originally from Waterloo.

My grandmother's brother, Walter Burdge built the ice house on the pond at Waterloo.

My father's house was built from lumber from the Waterloo Rail Station, by my uncle who had purchased the station. He, my father, and my grandfather took it down and transported the lumber to land on route 206 about a mile and a half south of the Netcong traffic circle, where it is today.

Just a little information I thought you might be interested in.

Sincerely,
Harrell W. Montonya Jr.
From George H. Winter of Alabama
Hello, Morris Canal Buffs!

I was born in Bloomfield, NJ, in 1939, lived in Belleville and Dover, and moved to West Orange where I graduated W. O. H. S. in 1957.

My parents took my older brother and me to rent a little summer cottage on Hwy 604, maybe eight miles north of Hackettstown, NJ, at Saxton Falls, on the Musconetcong River, in the 1940s, at Lock 5W. The cottage was right near the river, and near (below) the dam. (That cottage has since collapsed). Right up the road was a short canal section filled with water, on the east side of the road, where we swam frequently in the 1940s and maybe the 1950s. There was a little control house there, overlooking the dam, but there was no evidence of that canal section being connected to anything, anywhere. My father frequently fished in the water at the base of the dam, and for about one half mile downstream, right near our rental cottage.

One nice memory of sleeping there at Saxton Falls in the 40s and visiting there in the 50s was the train that was running on the east side of the river. Where I live here in Alabama, there is a train that runs about four houses away from our house, and every time it runs I think of Saxton Falls from 60 years ago. (My wife is not able to share these memories, and would rather not even live near the train). The train tracks here are elevated about the same height as they are through Saxton Falls. That is just such a pleasant thing, because both my parents and older brother have passed away, and hearing the train run here several times a day transports me back 60 years to Saxton Falls and Hackettstown every time.

By the canal was a snack shop, where everybody bought food in the 40s. I returned there in the 50s to look the canal section over. Then I returned in the 80s with my brother, and the short canal section was drained, but not filled in.

A local man at Saxton Falls, (whose parents had rented the cottage to our parents in the 1940s), told us about the stretch of the Morris Canal on the west side of the highway, which appeared to be southbound. I wanted to run through the bushes, and up the hill to look at it, but there was too much foliage. That sparked my imagination, since I had never suspected that our "swimming hole" had been a part of any state wide waterway from 25 years earlier.

I never knew until the late 80s about the Morris Canal being closed down around 1927. I would like to see photos of it in use, and maps of the various sections. I lived in Dover during the 50s, and knew the area well at that time.

Well, now it is almost 5:00 AM, and I have gone to four web sites and looked at the wondrous map (and photos) of the Morris Canal from Jersey City to Pennsylvania. Funny how I lived and traveled around Jersey City, Newark, Belleville, Bloomfield, Boonton, Dover, Lake Hopatcong, and Hackettstown from the 40s through 1959, when I entered the U. S. Army, which resulted in my living in Alabama, but never knew anything about this remarkable waterway.

In several trips back to NJ in the 80s and 90s, my brother and I would always go to Hackettstown, and on to Saxton Falls. The 1940s were so quiet and pleasant there that I will always cherish my time there, and let the local train here continue to take me back 60 years.

I must return to the web sites to study the canals more. I was very impressed with each web site, and the quality and intensity of the narratives provided. Who knew how short-lived the canal would be? In England and Holland, preservation of the canals and tow paths has been an ongoing mission of many organizations, for tourism and occasional families to live on the canals.

My father had been born in Amsterdam, Holland, in 1897. He told me about ice skating on the frozen canals there every winter, from about 1908 to 1924. Too bad there is no sense of such an annual pastime of canal skating in New Jersey or Pennsylvania, (as far as I know), since it would seem that most of the canal sections have been drained.

Thank ALL of you for ALL of your work in keeping thoughts alive about this part of our national heritage. I have seen a TV special about the Erie Canal, and now I find it pleasant to overlay those images of barges, mules towing, and river men onto my newfound perceptions of the Morris Canal.

Thank you all again!
George H. Winter